Co-Lab
Co-Lab - The one-stop platform for all your food testing needs
Founded by NTU's College of Engineering undergraduate, Jayjay Ong, Co-Lab is a foodtech start-up that provides food companies with quick and affordable lab tests. Co-Lab currently offers over 2,500 different types of lab tests with over 20 lab testers on the platform across Singapore, Malaysia, Vietnam and Taiwan. To date, the start-up has served over 50 companies and performed more than 1,000 tests.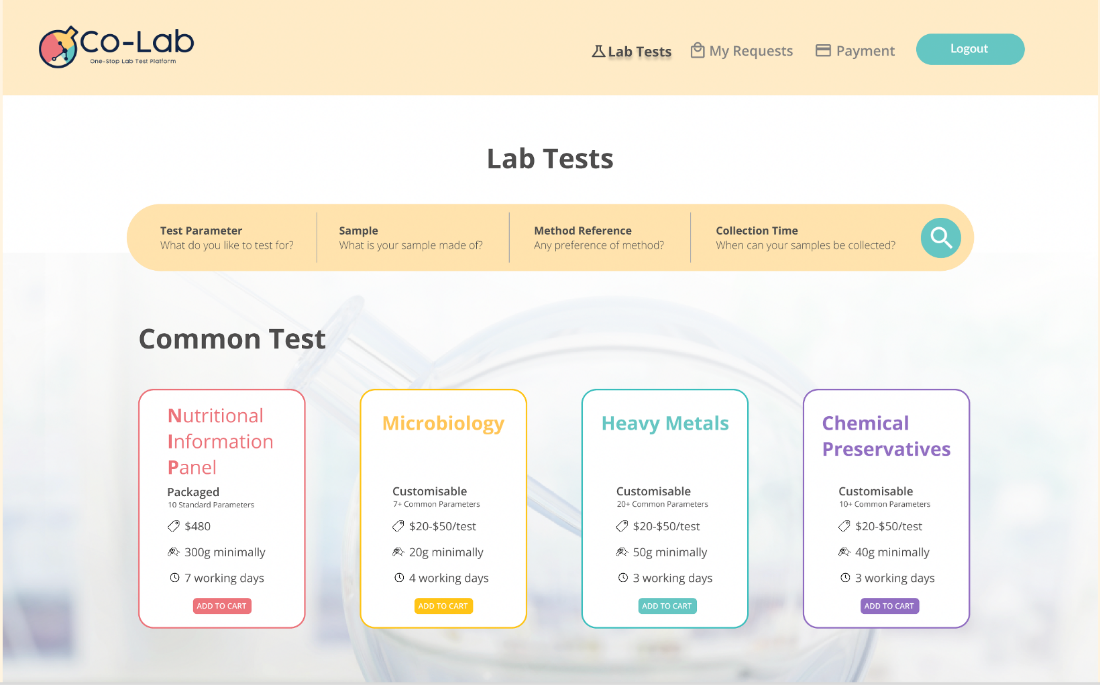 Why Co-Lab?
Food companies and manufacturers need to procure a series of lab tests to meet R&D or regulatory compliance. Currently, these companies often have to reach out to multiple labs and spend countless hours asking relevant questions and making many different considerations before procuring them. This leaves food technologists less time to focus on critical and complex tasks such as conducting investigations on quality lapses and overseeing corrective and preventive measures.
Co-Lab streamlines this process, providing a one-stop service that is simple and convenient. Co-Lab works off the principles of accessibility, affordability, and assurance, establishing itself as the platform of choice for lab-based food tests.
How did Co-Lab come about?
Jayjay first noticed the difficulty in procuring lab tests during his stint at an insect biotech company, where he noticed a huge information asymmetry between buyers and sellers. Many of the processes seemed tedious to him and not intuitive at all.
Following this experience, Jayjay found himself in a supplement company where he delved into the TIC (Testing, Inspection and Certification) industry and had the opportunity to talk to food companies.
"We have self-driving cars, people flying to Mars, yet companies are still using a legacy system to procure their lab tests," Jayjay shares, reiterating the unmet need that most food companies face.
Jayjay found a gap and opportunity in this market, and eventually founded the one-stop lab test platform, Co-Lab.
How has Co-Lab's Journey been?
When asked about the start-up journey thus far, Jayjay brought up the Dunning-Kruger effect to describe early-stage entrepreneurs. "Everyone starts off way ahead of themselves in terms of where they stand and what they can offer, yet in reality, because of the lack of knowledge, we don't know just how much we don't know," he comments. He noticed that these individuals eventually come to realise that they do not have as much insight into the industry, customers, business models, technicalities and product knowledge. Jayjay adds, "this causes our confidence to plummet and that's when the real learning starts."
Just like every entrepreneur, Jayjay candidly shared that he had been through this process for far more than 10 of his earlier business endeavours, where he gradually understood that the start of the learning curve is when you "assume you know nothing.", and he doesn't expect his learning journey to end anytime soon. After all, venturing into the unknown is part and parcel of running a start-up.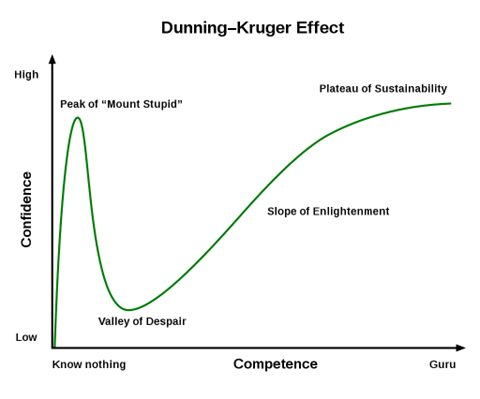 Image from https://commons.wikimedia.org/wiki/File:Dunning–Kruger_Effect_01.svg
What's in store for Co-Lab?
In the near future, Jayjay aims to iterate their product to achieve real product-market fit, where, according to Y Combinator Marc Andreessen, "The customers are buying the product just as fast as you can make it -- or usage is growing just as fast as you can add more servers. Money from customers is piling up in your company checking account. You're hiring sales and customer support staff as fast as you can."
When asked about his plans and where he sees Co-Lab in the long run, Jayjay's goal is to revolutionise food testing and advance science through technology.
How has NTUitive helped Co-lab?
Co-Lab was part of NTUitive's NTU Entrepreneurship & Start-up Training (N.E.S.T.) Programme, a short but intense bootcamp to understand the ins and outs of running a start-up. As part of the programme, Jayjay had the opportunity to conduct customer interviews, figure out their unique value proposition, and identify Co-Lab's competitive advantages in order to ensure there is a correct problem-solution fit.
After additional rounds of submitting his presentation and pitching to NTUitive panellists, Co-Lab was awarded the NTU Multi-Disciplinary Team (MDT) Project Fund of $10,000. The funding has helped to accelerate Co-Lab's product-building timeline.
Jayjay added that the N.E.S.T. programme has been useful in refining pitches and that the interview exercise was especially beneficial in getting real insights by asking the right questions. Jayjay remarks that this was "crucial to the efficiency of our operations as the insights serve as valuable inputs to building the right product early, allowing us to grow at pace". To find out more about the N.E.S.T programme, click here.
Any words of wisdom for aspiring entrepreneurs?
1. Start with "WHY"
2. Be inquisitive and critical with every feedback you receive apart from your clients or customers
3. Don't pretend to be good, strive to be good
More about Jayjay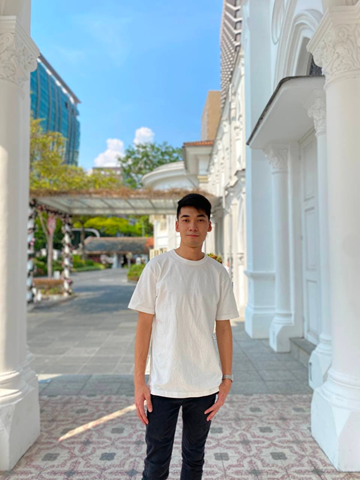 Q: Tell us more about yourself
A: My name is Jayjay and I am a huge fanatic of science. Since young, I have always been fascinated by scientific advancements and often spend my free time reading research articles and watching nerdy videos on Youtube or Curiosity Stream.
**********************
Q: What hobbies do you have?
A: My hobby is playing poker as it marries math and psychology. It also teaches us a very important lesson in life whereby things are probabilistic instead of deterministic. One can make good moves (in poker/life) but does not necessarily equate to good results. Good moves only have a higher chance of achieving good results. Adopting a probabilistic mindset has tremendously helped me in my life and business.
**********************
Q: What mindset or attitude do you adopt as an entrepreneur?
A: I think adopting a scientific mindset is very important for most things we do - to ask the WHY other than the WHAT, sometimes asking several whys helps us to see the fundamental truths. I have a theory whereby every decision by an individual can be explained by either psychology or biology.
**********************
Q: Are there any start-ups or companies you look up to or aspire to be like?
A: I think there are many entrepreneurs I look up to, less of start-ups as start-ups are just a function of their founders. Some founders that I resonate with are those that are extremely passionate about their industry or vision and their never say die attitude despite the number of failures and rejections.
I am a huge believer in culture and its ability to move the company forward. Founders like Tony Hsieh (Zappos) and Gabe Newell (Valve) are some of the people I look up to based on a few of their key principles:
Tony Hsieh: Holocracy vs Hierarchy, 10 Core Values
Gabe Newell: Valve Employee's Handbook - The Flatland Culture
Some of these are extremely difficult to execute though and would be infeasible (yes, I have tried and failed) for an early-stage start-up, so I foresee myself only practising them in the future.
---
If you're an aspiring Food Scientist, Marketer, or UIUX Designer who's interested to join Co-Lab, click here to find out more.
This article is written by NTUitive's copywriter, Nicholas Chia (NTU, Wee Kim Wee School of Communication and Information)