MakanNight! Talks: Opportunities for Asia start-ups in the USA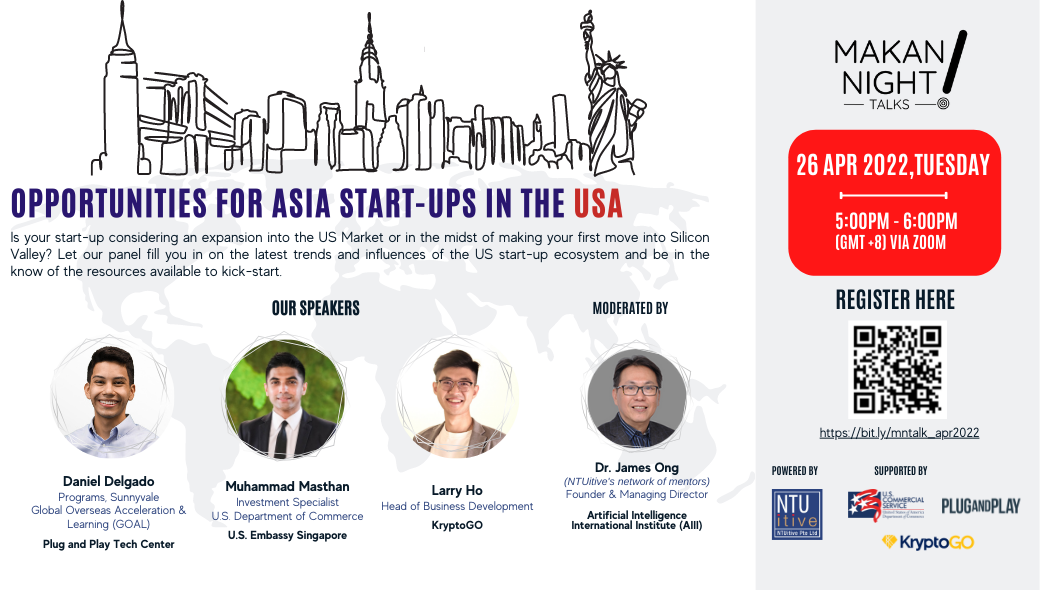 Is your start-up considering an expansion into the US Market or in the midst of making your first move into Silicon Valley? Let our panel fill you in on the latest trends and influences of the US start-up ecosystem and be in the know of the resources available to kick start.
Date: 26 April 2022, Tuesday
Time & Platform: 5:00PM - 6:00PM (GMT +8) VIA ZOOM
REGISTER NOW:
https://bit.ly/mntalk_apr2022
---
ABOUT SPEAKERS
Muhammad Masthan
Investment Specialist, U.S. Department of Commerce, U.S. Embassy Singapore
Mas is an Investment Specialist from the U.S. Department of Commerce in the U.S. Embassy Singapore. He is responsible for the SelectUSA program in ASEAN region. He works closely with Southeast Asia based companies and startups to expand their presence in the United States.
Daniel Delgado
Programs, Sunnyvale (Plug and Play Tech Center)
Global Overseas Acceleration & Learning (GOAL)
As a Program Associate, Daniel delivers the Global Overseas Acceleration & Learning (GOAL) program at Plug and Play Tech Center that meets start-up needs and prepares them for success as they enter and explore new markets. Holding a Master's in International Policy and Development with a concentration in Evaluation and Analytics and a Bachelor's in International Development, he has traveled, studied, and worked across 20 countries. Daniel has a background in data science, policy, and economic development, where he has created policy proposals on "Foreign Direct Investment and GDP/Capita" and "Electricity, Development, and Income Inequality." He even completed his thesis on "The Political Economy of Qatar," highlighting the synergy between business, technology, and universities to promote economic development and spur endogenous growth.
Larry Ho
Business Development Manager
KryptoGO
As the head of business development at KryptoGO, Larry splits his time between customer, partner, and investor relationship management. Larry develops partners to promote the adoption of the KryptoGO Wallet. In addition, Larry is a Certified Anti-Money Laundering Specialist (CAMS) and he provides AML consulting services to top crypto exchanges. In his free time, Larry enjoys exploring interesting crypto and NFT projects.
---
ABOUT MODERATOR
Dr. James Ong
Founder & Managing Director
Artificial Intelligence International Institute (AIII)
Dr. James Ong is part of NTUitive's network of mentors who has over 35 years of experience in enterprise technology, digital transformation and venture building in Asia, US and Europe. He is an entrepreneur and community builder who has incubated, invested and mentored various technology start-ups.
He is the founder and CEO of Origami that provides strategy, technology and investment advisory services for venturing towards Autonomous Enterprise across multiple industry verticals and multiple generations of technology revolution including Artificial Intelligence (AI), Enterprise Software, Mobile Internet, Blockchain, Web3 and Metaverse.
James founded Artificial Intelligence International Institute (AIII), a think tank advocating Sustainable AI for Humanity. He is also adjunct professor at SUTD and serves as a mentor at NTU, SUTD and NUS. He received his PhD in Management Information System specializing on AI for Automating Policies and Business Process and MA & BA in Computer Science from the University of Texas at Austin.
---
SUPPORTED BY:
US Commercial Service
The U.S. Commercial Service is the trade promotion arm of the U.S. Department of Commerce. Their knowledgeable team of trade experts offers assistance for Singapore companies seeking to expand into the U.S. and assists U.S. companies exporting to Singapore.
Plug and Play Tech Center
Plug and Play is a global innovation platform. Headquartered in Silicon Valley, we have built accelerator programs, corporate innovation services, and an in-house VC to make technological advancement progress faster than ever before. Since its inception in 2006, our programs have expanded worldwide to include a presence in over 30 locations globally, giving start-ups the necessary resources to succeed in Silicon Valley and beyond. With over 30,000 start-ups and 400 official corporate partners, we have created the ultimate start-up ecosystem in many industries. Companies in our community have raised over $9 billion in funding, with successful portfolio exits including Danger, Dropbox, Lending Club and PayPal.
KryptoGo
KryptoGO is a cross-chain, non-custodial wallet service so that users can frictionlessly trade their cryptocurrencies and NFTs and seamlessly interact with decentralized applications (DApps). With a successful KYC/AML compliance solution that has been used by international banks and top VASPs, KryptoGO's vision is to build a compliant crypto wallet that allows users to freely travel between the web3 and traditional worlds.