MakanNight! Games: Seal the Deal in 60 seconds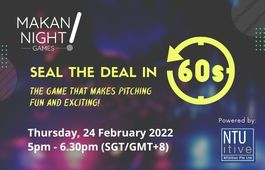 Embark on a gamified start-up journey without missing out on the excitement of a real-life experience.
About the game:
Teams of 3 to 4 players are challenged to think on their feet to craft investment-worthy start-up pitch using a bit of luck, hilarious antics, and wit to outdo one another with their business proposals. All participants get to vote and the team with the most votes walk away with a prize.
Be creative. Fake it 'til you make it.
Sign up now at https://bit.ly/MNGames_Feb2022 to be part of the game!