NTUit.io Investment Game x SWITCH 2020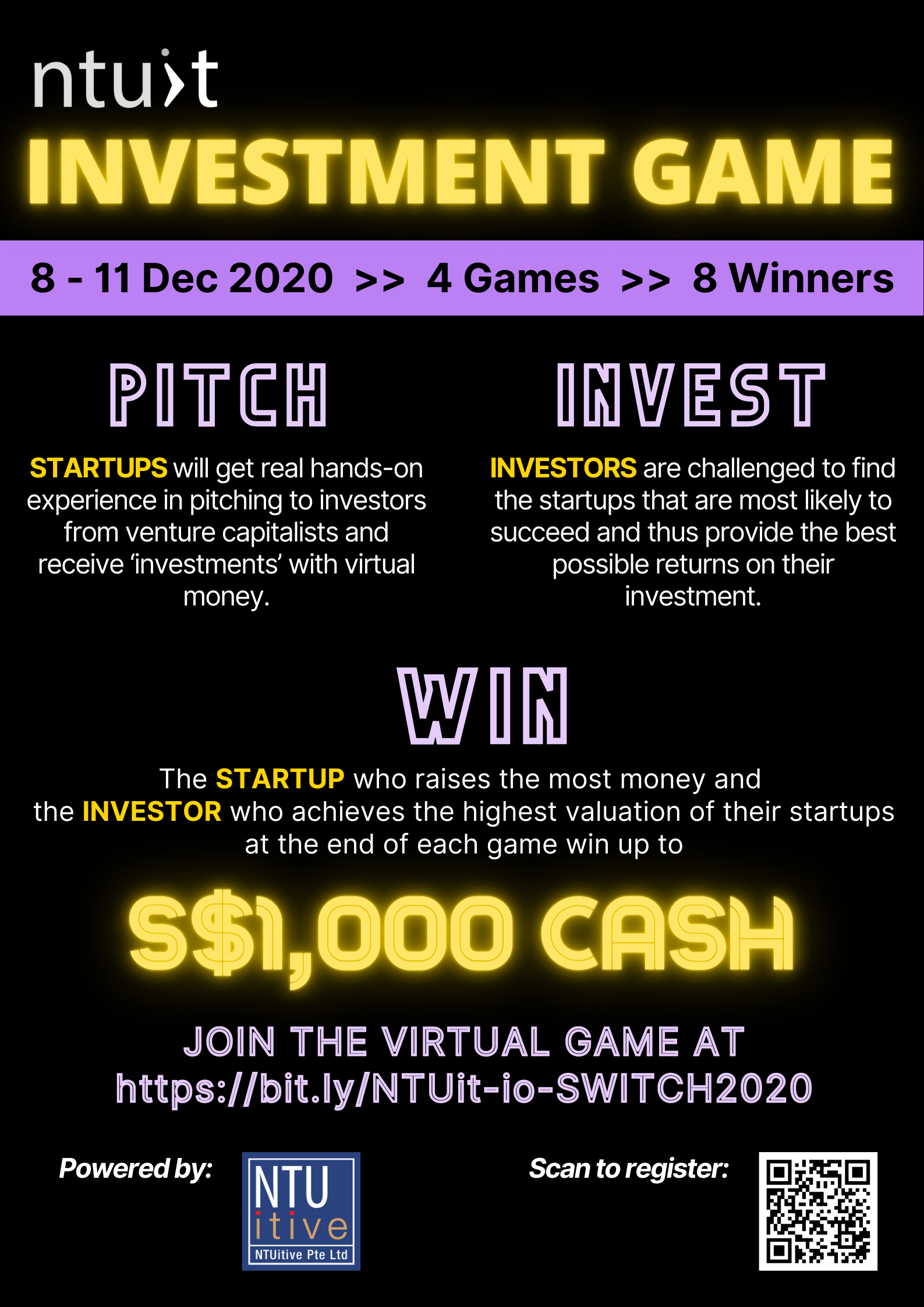 H

appening during SWITCH 2020 » 8 to 11 December 2020
4 Games » 8 Winners
Updates:

ALL SLOTS FULL on 8 Dec and 10 Dec. YOU MISSED IT!
Register NOW for 9 Dec and/or 11 Dec to not lose your chance to meet the following investors who have signed up for the game:
Belmond Capital

Creador

Fresco Capital

Genting Ventures

Golden Gate Ventures

Irbis Ventures Pte. Ltd.

KCM Capital Management

Protégé ventures

TRIVE

Family Offices and Angle Investors too.
ABOUT ntuit.io INVESTMENT GAME
The ntuit.io Investment Game is a simulation of the fundraising/ investment process in the real world.
Players assumed either of the 2 roles – 'Investors' (real Venture Capitalists, Business Angels, Investment Analysts or VC-wannabes), and 'Investees' (startups or teams).
THE PRIZES
The STARTUP team that raises the most money at the end of a game session wins S$1,000.00.
The INVESTOR who achieves the highest valuation of their startups at the end of a game session wins S$250.00.
GAME OBJECTIVES
The aim of Investees is to deliver persuasive, concise and powerful pitches under time pressure to convince Investors to invest in their business and be the team with the highest valuation (final share price x total no. of shares sold) at the end of the Game. Winners of the Game usually make it Big in the real world!
The aim of Investors is to generate the highest portfolio valuation with a fixed amount of 'play money'.
HOW THE GAME WORKS
//Direction
Each game lasts up to 3.5 hours (including 30mins briefing and Q&A) and we admit no more than 20 Investees and as many Investors. Places are secured on a first come first serve basis.
The pitching is conducted either on Zoom or in a physical setting.
All transactions will be made on the ntuit.io platform.
Every Investor and Investee will receive the login credentials from the Admin before the session begins.
During the pitching session, both Investees and Investors can jump between conversations (or Breakout rooms if on Zoom) to hijack (or sabotage – you call the shots!) deals.
//Investors
Every Investor will be given $1M of 'play money'. Investors should aim to deploy all your 'play money' before the game ends.
Investors learn to identify high-performing Investees early and deploy as much money as possible in them.
Investors can hop within the Zoom session between Main Session and any Breakout rooms to listen in to pitches.
Investor with the highest portfolio value at the end of game wins.
Investor can only invest in every Investee ONCE.
Investment made cannot be withdrawn unless the Investee rejects your offer.
//For Investees
Every startup or team will be presented as one Investee, and can nominate one representative to receive the login credentials to ntuit.io.
Investee can sell an UNLIMITED number of shares.
Every game begins with a minimum investment quantum, and there is ONLY up-round, no down-round – lucky you, Investees!
Investee aims to sell shares at higher price (for higher valuation).
There is a Time Limit to accept/reject offers from Investor – be watchful & act fast!
Every Investee will be assigned to their own Zoom Breakout room. Teams can hop between Main Session and any Breakout rooms to seek an opportunity to pitch to potential Investors.
Investee with the highest valuation (end-game final share price x total no. of shares sold) at the end of the game wins.
TERMS & CONDITIONS:
Each startup team and investor are welcome to join more than 1 game but you can only claim the prize once.
In the event a startup team/investor wins for second time, the prize goes to the 1st runner up and/or the subsequent startup team/investor who qualifies for it.
MAY THE ODDS BE IN YOUR FAVOUR!