MakanNight! Talks: Business Opportunities in Reducing Carbon Footprint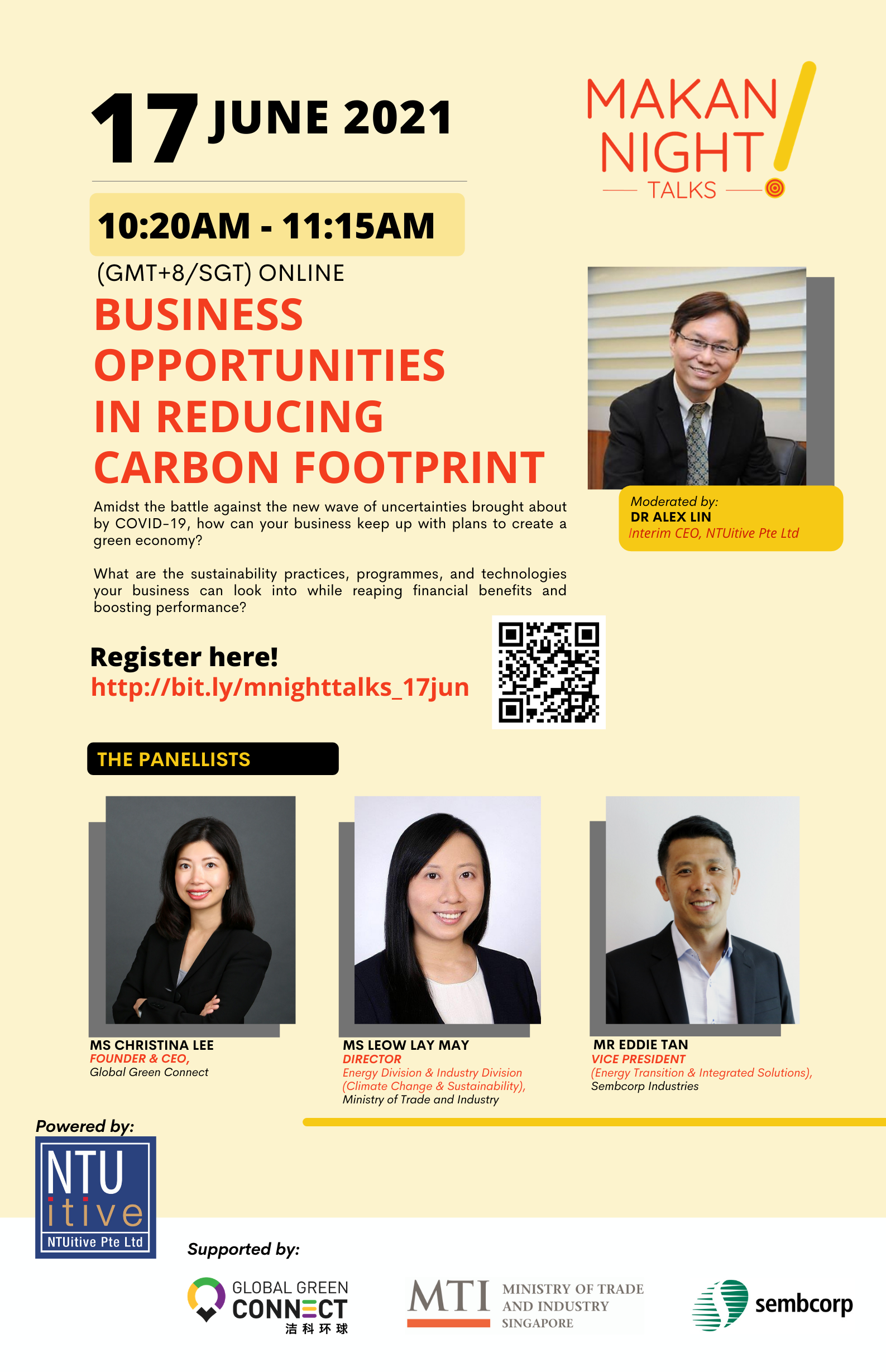 Rising sea levels and extreme weather trends are real issues we are facing as we continue to fight against the ongoing threat of climate change. The government recently unveiled the Singapore Green Plan 2030, aiming to halve the country's 2030 peak greenhouse gas emissions by 2050 and to achieve net zero emissions "as soon as viable" in the second half of the century.
Amidst the battle against the new wave of uncertainties brought about by COVID-19, how can your business keep up with plans to create a green economy? What are the sustainability practices, programmes, and technologies your business can look into while reaping financial benefits and boosting their performance?
Join us as our esteemed panellists from Global Green Connect, Ministry of Trade & Industry, and Sembcorp Energy Singapore provide key insights into the topic.
Date: 17 June 2021, Thursday
Time: 10.20AM - 11.15AM (GMT+8/SGT)
Venue: Online
Register now! http://bit.ly/mnighttalks_17jun
---
Our Panellists:
Ms Christina Lee, Founder & CEO from Global Green Connect

A seasoned media professional turned impact & social entrepreneur in 2012. Christina is deeply passionate about sustainability, education, and business. She set up a sustainability consulting, Global Green Connect, and founded a purpose-driven social enterprise, GGEF, since 2013. Christina is an advisor for Tsinghua x-lab, mentor for the Open Tsinghua SDG Hackathon, Summer 17 Open Hackathon by the University of Geneva.

Christina was named one of the Asia's Top 30 'Eco Warriors 2019' by Green is the New Black and 'TBLI HERO' by TBLI Group in 2020. She was awarded the 'Achiever Award, Leader in Responsible Corporation Driving Impact' at the Asia Futurist Leadership Summit 2020. Christina holds a master's degree in management from Macquarie University (MGSM), Sydney.

Ms Leow Lay May - Director, Energy Division & Industry Division (Climate Change & Sustainability) from Ministry of Trade & Industry

Ms Leow Lay May is Director of Energy Division and Industry Division (Climate Change & Sustainability) in the Ministry of Trade and Industry (MTI). The Energy Division is responsible for formulating Singapore's energy policies and strategies, fostering the development of competitive energy markets, and promoting regional energy cooperation.

The Climate Change & Sustainability team coordinates and formulates policies and strategies to support the pursuance of opportunities in the green economy, and to achieve our climate goals. Prior to joining MTI, Ms Leow served in the Ministry of Law, Ministry of Transport, Ministry of Home Affairs, and Ministry of Manpower.

Mr Eddie Tan, Vice President (Energy Transition & Integrated Solutions) from Sembcorp Industries

Mr Eddie Tan is responsible for developing the portfolio of offerings under Sembcorp's suite of Sustainability Solutions in Singapore. These include integrated energy, water, waste and digital solutions aimed to help customers meet their environmental sustainability targets. Mr Tan has over two decades of broad experience in the energy sector, spanning power generation, engineering, operations, management, sales and strategy. Before joining Sembcorp, he was the director at Bosch Southeast Asia responsible for Smart Cities, I4.0 and energy solutions sales. Prior to that Mr Tan has also worked with various power utilities companies in the Asia Pacific region, including Singapore Power, GE Energy, DNVGL and Bosch. Mr Tan holds a Bachelor's degree in Electrical Engineering from the University of Sheffield, UK.
Moderated by:
Dr Alex Lin, Interim CEO – NTUitive Pte Ltd

Other than managing and commercialising the university technologies, Dr Lin and his team design and operationalise a venture building programme – ideasinc.veni – where promising entrepreneurs build viable companies through 12 weeks of intensive venture building activities under the Enhanced Startup SG Founder scheme. Dr Lin is a prolific startup and ecosystem builder who contributed to the Singapore and overseas startup ecosystems.
Register now! http://bit.ly/mnighttalks_17jun