[16 & 19 JUN] NTUitive Webinar Series - Revenue Models and Navigating China in the New Norm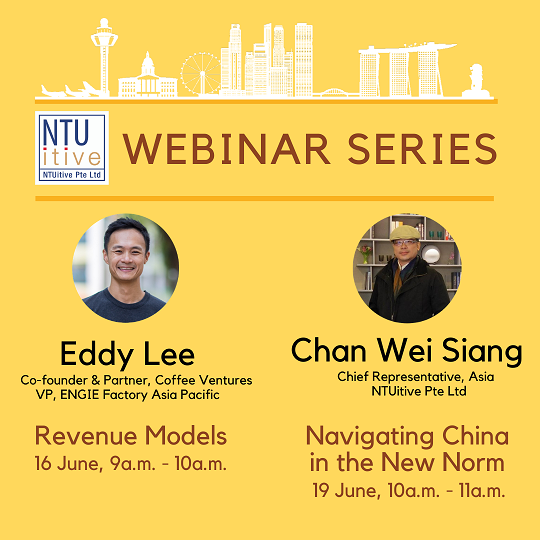 Join Eddy and Wei Siang live as they share and take questions on the topics of
'Revenue Models' and 'Navigating China in the New Norm'.
16 June, 9am to 10am - 'Revenue Models' by Eddy Lee
Eddy is an active early-stage investor. He has invested in more than 50 startups in the last three years, mostly in the USA, Singapore, and Indonesia. Eddy will share on the investor's view on the startup revenue model, especially on revenue impact caused by COVID-19. The insights will be useful for your next fundraising.
19 June, 10am to 11am - 'Navigating China in the New Norm' by Chan Wei Siang
Wei Siang has been immersed in the Chinese business environment for over a decade. He has extensive experience in government services, managed numerous cross border projects and managed companies in China. Wei Siang will share deep insights on how to navigate the China market efficiently, ride on emerging trends unique to the Chinese business community, and profit from engaging the Chinese market.
REGISTER NOW: https://bit.ly/nws1619