NTU Entrepreneurship & Startup Training (NEST) Programme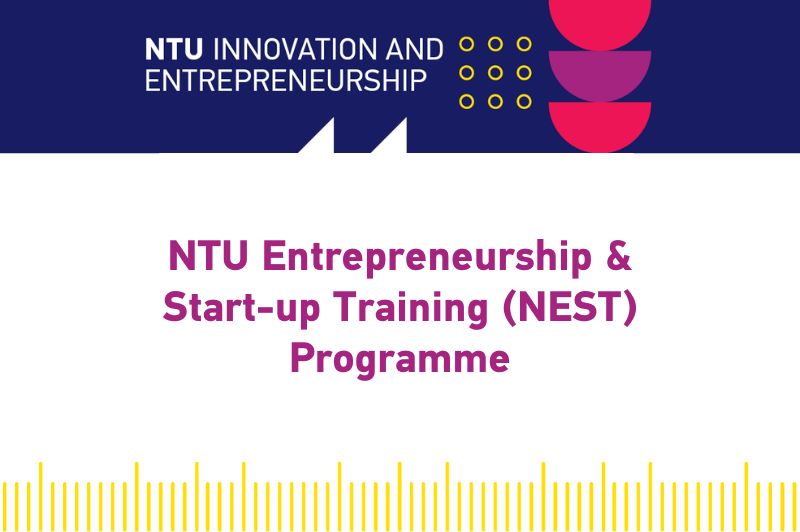 About NTU Entrepreneurship Start-Up Training (NEST) Programme
NTU Entrepreneurship & Start-Up Training (NEST) is designed to provide aspiring individuals with the skills, knowledge, and tools needed to develop new ideas and/or iterate existing solutions and translate them into successful businesses.
At NEST, you will be given access to a range of resources including workshops that focus on hands-on activities, group collaborations, and real-world case studies, one-on-one coaching sessions with seasoned entrepreneurs, opportunities to network and meet like-minded individuals (or even your potential co-founders!), and a chance to apply for our Multi-disciplinary Team (MDT) fund of up to S$10,000, for teams to develop your prototype for market testing and validation.
The program starts with a one-day design sprint workshop, where you and your team will dive into the use of design thinking principles, tools, techniques, and mindset to approach problem-solving to ideate and innovate; followed by a one-day intensive bootcamp, where you will dive into the customer discovery to gain insights on their pain points, before submitting assignments to help us assess your team's members, understanding of its customer segments and their pain points, and the testing of its hypotheses.
Who can join?
Open to NTU students (undergraduates and postgraduates), staff, faculty, and alumni, who are
Interested to learn entrepreneurship
New or not-so-new to the startup journey/business world
Seeking incubation support or grant application at NTU
What's next?
If you are seeking funding, you will be required to
Submit assignments post-workshop and post-bootcamp,
Conduct a min. of 20 potential customer interviews, and
Attend coaching sessions with the instructors and mentors