NTU Entrepreneurship & Startup Training (N.E.S.T) Programme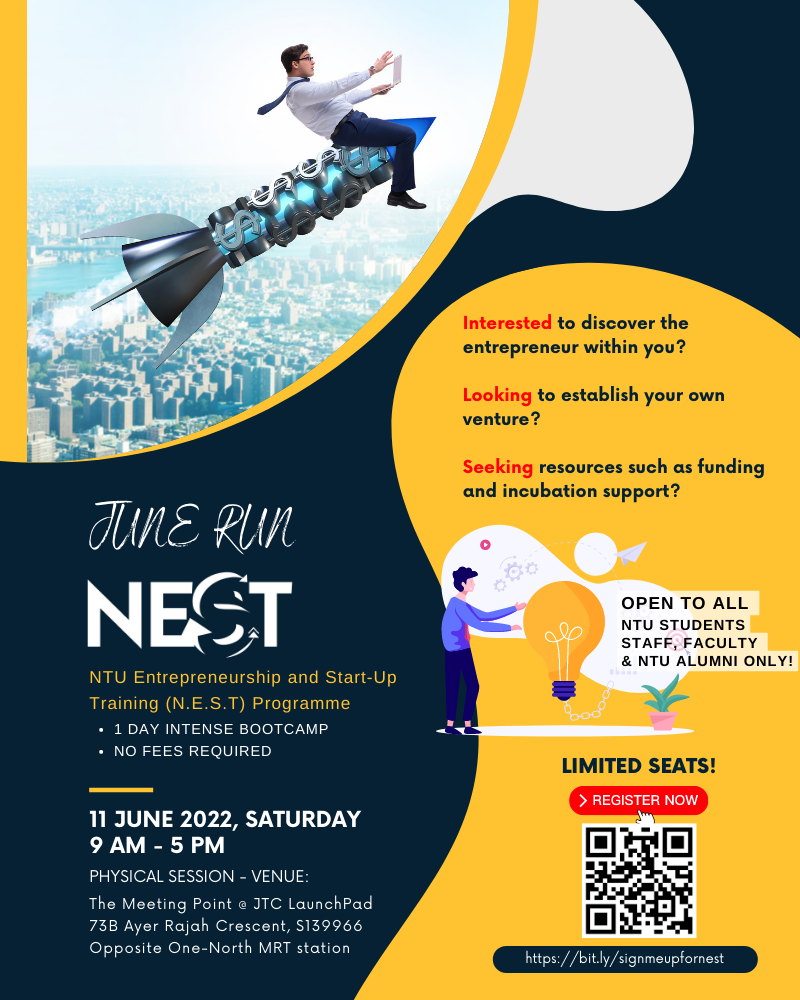 NTU Entrepreneurship & Startup Training (N.E.S.T) Programme
In April, we kick-start our inaugural NTU Entrepreneurship & Startup Training (N.E.S.T) Programme, a bootcamp on the 101's of starting a business.
With the guidance of our seasoned instructor from the industry, participants will learn the ropes of the dos and don'ts before they venture further into materialising their business ideas and gained a clear understanding of the support and funding options available to start-ups.
The upcoming run will be held on:
Date: 11 June 2022, Saturday
Time: 9:00AM to 5.00PM
Venue: The Meeting Point @ JTC LaunchPad (73B Ayer Rajah Crescent, S139966, Opposite One-North MRT station)
Find out more: https://bit.ly/signmeupfornest

By the end of the programme, you will have an understanding of
1. The 101's of starting a business - how do you get a business started and grow it?
2. How do you determine who are your users and customers?
3. How do you know you have enough market segment to generate a sustainable profit?
4. How to build the right product for your customers - are you solving their "pains"?
5. What's next for my start-up - growth or upsell to existing users?

Who can join?
Open to NTU students, staff, faculty and NTU alumni, who are
1. Interested to learn entrepreneurship
2. New or not-so-new to the startup journey/business world
3. Seeking incubation support or grant application at NTU

Programme Format
1. An instense bootcamp led by a seasoned instructor and entrepreneur
2. 30 - 45 mins of post-bootcamp consultation with the instructor
3. Submission of pitch deck (post-bootcamp)
4. Conduct at least 20 interviews (post-bootcamp)

Please get ready the following information:
1. Co-Founder details and Team Member(s) details, if any
2. Pitch Deck, if any

Contact us at [email protected] if you have any questions.