NTUitive-incubated startup Fastbee.sg delivers affordable local food with convenience
Date: 19 Nov 2017
From hawker centre to home: Is delivering cheap, local food a recipe for business success?
A new crop of start-ups is cashing in on the growing appetite for food delivery in Singapore by focusing on local delights.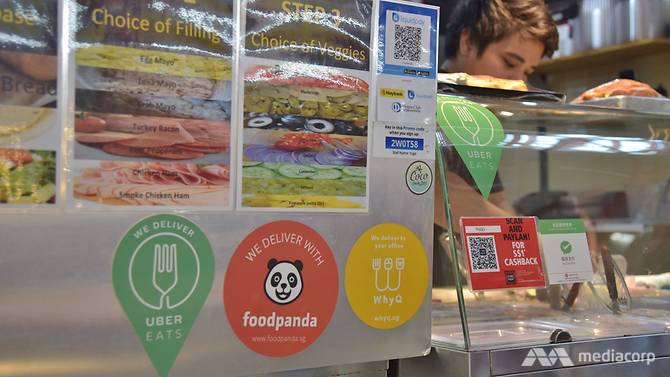 Labels of food delivery start-ups seen at a hawker stall in Maxwell Food Centre. (Photo: Tang See Kit)
SINGAPORE: For Mr Wong Liang Tai, owner of Ah Tai Hainanese Chicken Rice at Maxwell Food Centre, the idea of partnering a food delivery service had been something that was "unthinkable".
"I'm just a small hawker," the 58-year-old said in Mandarin. "These services usually require a commission. How can I afford it?"
But about three months ago, the hawker began teaming up with WhyQ – a new meal delivery start-up that does not require Mr Wong to pay commission for orders taken from its platform.
So far, there have been a few big orders ranging from 10 to 20 packets. On a good week, Mr Wong said he could receive an additional five orders a day.
While the partnership has not translated into a "significant boost" to his revenue, "every order counts" given that business at the once-popular hawker centre has slowed since the construction of the Thomson-East Coast MRT line two years ago.
"It's not much now, but every little bit helps," said Mr Wong.
Over the past years, willingness from consumers to pay for convenience has whetted a growing appetite for meal deliveries in Singapore. This has, in turn, spurred the growth of players such as foodpanda and Deliveroo.
But hawkers have been largely left off the menu, with these early movers fetching meals from mainly restaurants and cafes. The commission fees that these delivery providers charge, which may be around 30 per cent for each order, also serve as arefrain for small F&B owners.
WhyQ, the new kid on the block that began operations in February, is among the new crop of start-ups that has invaded the increasingly crowded space of food delivery but with a twist: Picking up meals from hawker centres or small eateries serving up local delights.
And at least three other delivery platforms with the same focus – Fastbee.sg, Yihawker and Porterfetch – have emerged this year.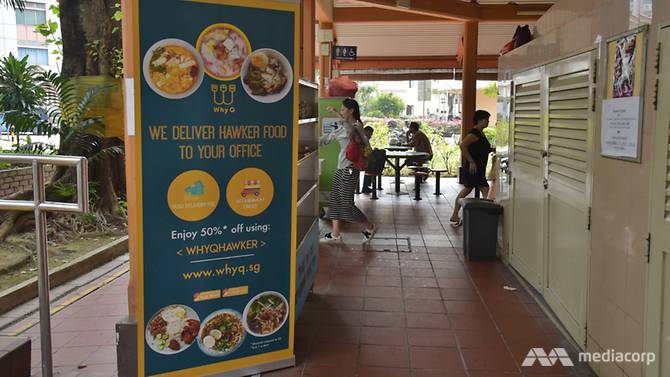 Started in February, local start-up WhyQ delivers from hawker centres within the central business district. (Photo: Tang See Kit)
DELIVERY OF AFFORDABLE LOCAL FOOD AN UNDERSERVED MARKET
Still, these entrepreneurs told Channel NewsAsia that the delivery of humbler local fare, such as chicken rice, prawn noodles and even zi char dishes, remains an underserved market.
"We are not focusing on restaurant or café food that may go up to S$20 a meal. The segment we are in is local food that people can afford every day which still has a lot of market space," said Fastbee founder Khoo Kar Kiat. "We are all in different geographies as well so I think we will co-exist."
Fastbee, an online portal for people to make lunch orders and later pick up their food from designated vending machines, targets workers at various industrial and business parks in the West. The start-up recently expanded its footprint to eight machines at areas such as Mediapolis, Science Park and Block 71 in Ayer Rajah Industrial Estate.
For WhyQ, deliveries are made within the central business district (CBD) and Changi Business Park, while Yihawker is ramping up its presence in the east.
Only Porterfetch, which officially launched in August, delivers islandwide but it differentiates itself by making deliveries between 9pm and 3am daily. Describing that as a "niche market with no competition", the founders – Singaporeans Daniel Chan and Kenneth Ho – are confident that the start-up isn't too late to the game.
"We know it'll be difficult for us to go head to head with the big boys so we need to find our niche," said Mr Chan, 32. "It was clear to us that it was going to be delivery for supper. There is clearly demand but no one is doing it."
The start-up, which is looking to roll out its mobile apps by end-2017, had taken 8,000 orders via its website by the end of last month. It expects to make its 10,000th delivery this month.
WhyQ and Fastbee are also doing a roaring trade, according to its founders. The former clocks on average 500 orders a day, while the latter delivers more than 700 packets of food on a weekly basis. Yihawker declined to reveal figures.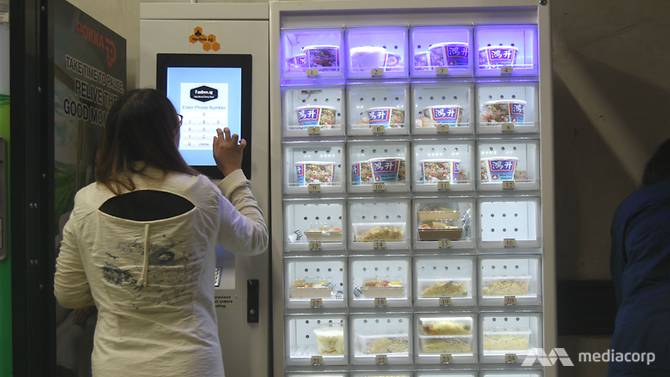 Fastbee's vending machine at the Mediapolis. (Photo: Tang See Kit)
To accommodate small F&B owners, which tend to operate on lean manpower, some players like Fastbee have in place a pre-ordering system so that orders can be prepared before peak hours.
While the response has been encouraging thus far, the key to convincing small F&B owners to come on board is to be "complementary" and "non-disruptive", start-ups said.
Madam Wong, who runs the New Hong Kong Congee stall at Amoy Street Food Centre, said she was initially worried about having deliverymen join the queue during busy lunch hours.
"There's no reason for us to reject additional orders – it's extra income for us," she said in Mandarin. "But I don't want my customers who come down personally to wait for too long so it's good that they let us know early, like around 11am. We can start preparing too."
KNIVES ARE OUT: KEEP COSTS LOW, BE EFFICIENT
But while most hawkers have welcomed these delivery services, what's in it for these start-ups in the long run?
Three out of four of these new entrants do not take a cut from orders. WhyQ said it has various partnerships in place and charges a 10 per cent commission for a "small group" of hawkers.
Most of them also do not require a minimum order, except for Yihawker which has it at S$12.
Hence, delivery fees constitute the key source of revenue for most of these new delivery players. This varies from a flat fee of S$1.50 for WhyQ and Fastbee to a distance-based range starting from S$4.50 to S$5 for Yihawker and Porterfetch, respectively. Porterfetch also charges a 9 per cent service fee.
With its S$1.50 delivery fee being its main income, Fastbee relies on aggregating orders and eliminating point-to-point deliveries to stay lean and keep costs down.
"Other companies take food from many places and that makes operations unviable because it's expensive to run around. For us, we only go to one hawker centre for one machine," Mr Khoo explained, while adding that one to two deliverymen is all that's needed to pick up the maximum load of 144 packets of food for one machine daily.
And as he moves toward his goal to install 10 machines by the end of this year, Mr Khoo said he has managed to halve the cost of each machine by tweaking the design, which is a significant cost saving.
A similar model to aggregate orders is also in place at WhyQ.
After collecting the orders from various hawker stalls, its delivery crew of 20 gathers at a meeting point to re-distribute the food according to pick-up points. Each delivery person then sets out to the assigned pick-up location.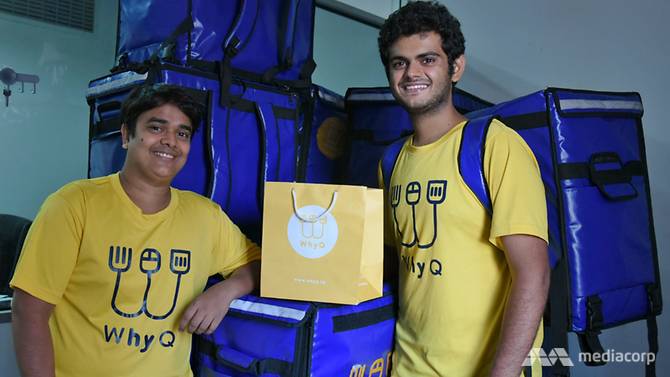 Ex-bankers Rishabh Singhvi and Mr Varun Saraf started WhyQ to help time-strapped office workers to order affordable hawker food. (Photo: Tang See Kit)
"We are not Deliveroo or Foodpanda where one guy is assigned to one task," said co-founder Varun Saraf. "For us, one delivery guy serves many customers at one pick-up point so we are able to get less delivery couriers to deliver more and that helps us to control costs."
"We are working to make this more efficient to be about 35 to 40 orders per day for one delivery man," Mr Saraf, who started WhyQ with his college mate Mr Rishabh Singhvi, added.
Yihawker also relies on aggregating orders and delivery within specific zones – lessons that founder Jonathan Faynop picked up from his previous venture Hawker.Today, a hawker food delivery firm that ended operations last year.
"Hawker.Today was delivering close to islandwide. It gave us traction but the business model was just not sustainable," said the 27-year-old.
Noting that hawker food delivery still has massive potential, Mr Faynop decided to make his comeback with a refined business model. Apart from the CBD, Yihawker now focuses on the heartlands in the east, such as Bedok and Tampines, which are less penetrated by similar delivery services.
Still, even with burgeoning demand, founders told Channel NewsAsia that their entrepreneurial journeys have not been all smooth sailing.
Porterfetch, for one, had to survive technical glitches during its initial stage and a period of "getting caught up in the numbers game".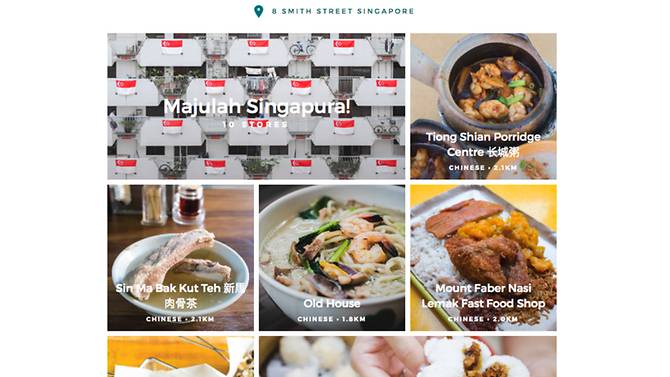 Porterfetch was founded by Singaporeans Daniel Chan and Kenneth Ho, and aims to be the "concierge service in Singapore that can get anything delivered".
Said co-founder Kenneth Ho: "When we first started, we took on a lot of orders even though sometimes we didn't have enough riders. We thought the more deliveries we do means more happy customers, but that was clearly not the case.
"More often than not, our customer service colleague ended up issuing promo codes to unhappy customers and we realised that's not right," the 32-year-old added. Now, we only deliver what we can manage."
Over at Fastbee, Mr Khoo has had to deal with "epic failure moments" on a monthly basis.
"There was once when I was going to launch a new machine at a new location but the third-party logistics provider I was partnering couldn't deliver. I had no drivers to fulfil orders. It was such a stressful day that I nearly felt like throwing in the towel," said the 34-year-old who left his job at the Economic Development Board (EDB) last year to be his own boss.
"But I guess you come out stronger every time you resolve a problem… If it was so easy, everyone would be a 'towkay' already," Mr Khoo said with a laugh, referring to the Hokkien term which means "boss".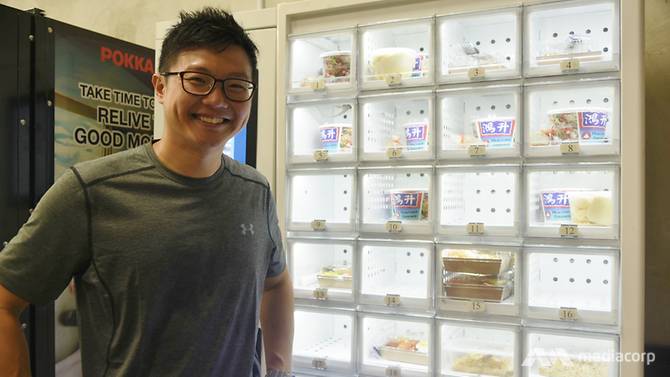 Since leaving the Economic Development Board last year to start his own food delivery firm, Singaporean Khoo Kar Kiat said he has had to face "epic failure moments" every month. (Photo: Tang See Kit)
SERVING UP FUTURE PLANS
Moving forward, all four start-ups are gearing up for expansion, both in geography and product offerings.
After launching its services in the Changi Business Park two months ago, WhyQ is looking to venture into "underserved" business parks in the One North and Kent Ridge areas.
Yihawker, which dreams of becoming an e-hawker food directory, is adding new functions to its app. One of which will allow customers to track the queue situation at a particular hawker stall before placing orders.
Porterfetch aims to evolve into a "concierge service for everything" further down the road.
"We started off with food because for any delivery platform, it's a numbers game and food is the easiest way to get the numbers," said Mr Ho. "But eventually, we want to be more than just food delivery and be able to deliver anything that our customers want at any time of the day."

Fastbee also has similar ambitions, said Mr Khoo, who hopes that his start-up can emulate Amazon to become an on-demand delivery platform for all things.
"My vending machines may have started off with food but what I can do is to reconfigure it into a POPstation or a locker for many other things," he said. "You may have bought something online and would want to pick up these items at a convenient location at a low cost. My machines will fit the bill."
"Technology has made it much easier for anyone to enter the delivery business and as long as you can keep costs low, you can survive. But what matters is the vision to sustain this over the long run," Mr Khoo told Channel NewsAsia.
"I'm not making much money right now but I'm laying the foundations for a bigger network. I'm confident this is the way to go."
---
Article Credit: http://www.channelnewsasia.com/news/business/food-delivery-cheap-local-hawker-start-ups-9401690
makannight
soundproof
heat-resistant
technology landscape
capability gaps