Challenge Update: Lead-up to Demo Day of the Dyson-NTU Innovation Challenge 2021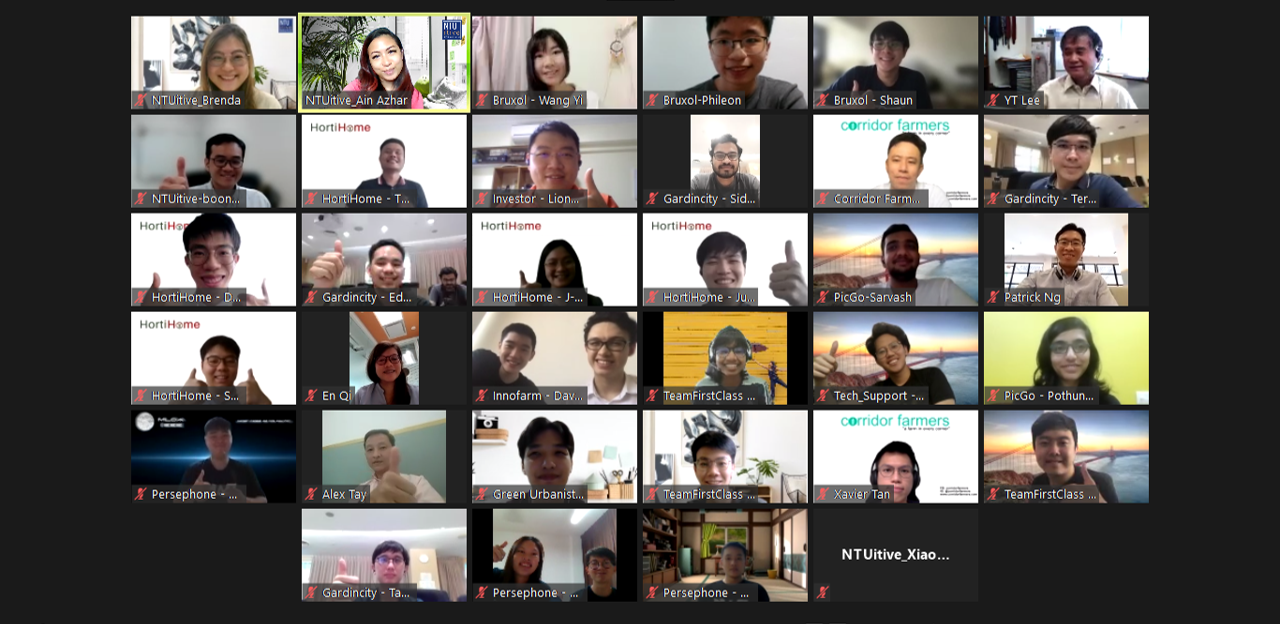 The highly anticipated NTUit.io Virtual Investment Game was held virtually in April. The event saw ten teams battle it out in the semi-finals of the Dyson-NTU Innovation Challenge 2021 for the largest share of 'investment funds' from a panel of investors. Those who secured the most funds through their wit and polished proposals earned their right to progress into the prototyping phase and the finals. Three teams emerged at the top – Corridor Farmers, HortiHome and Bruxol! What did these teams think of the Virtual Investment Game, and what are their game plans for the next phase and eventually the finals? We got in touch with them to find out.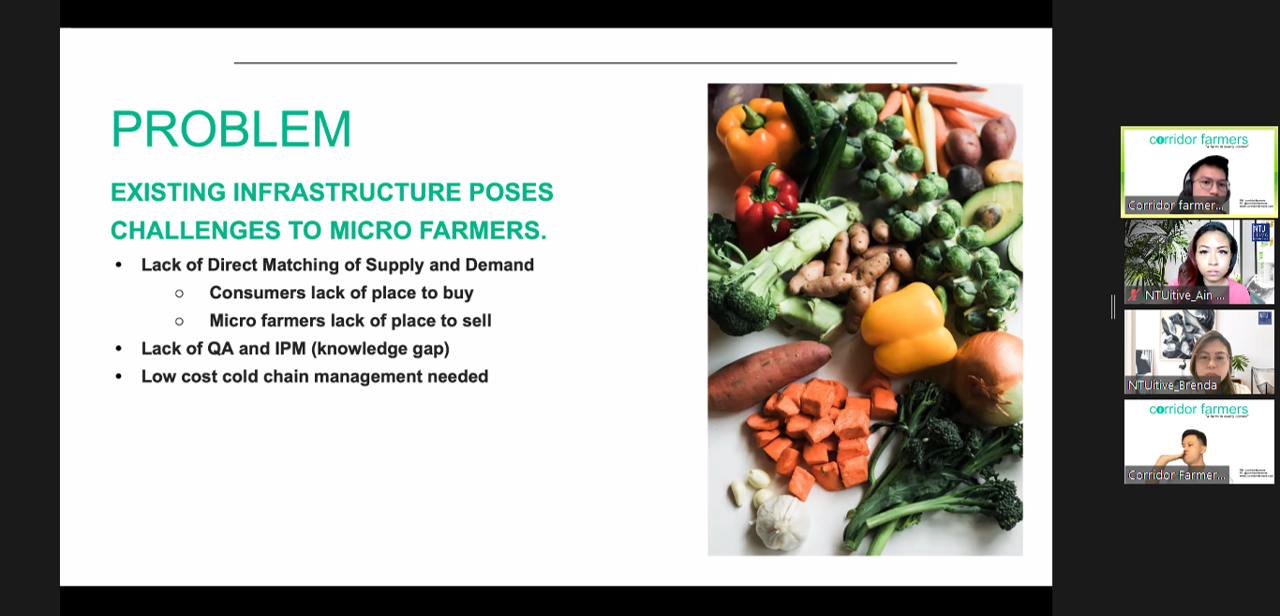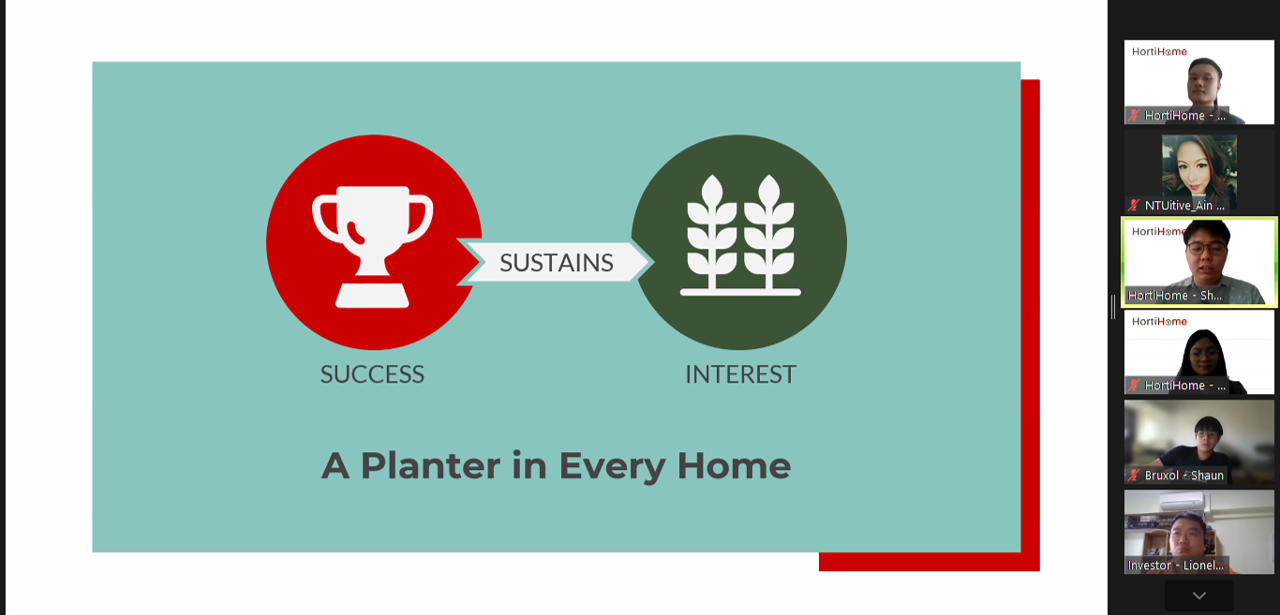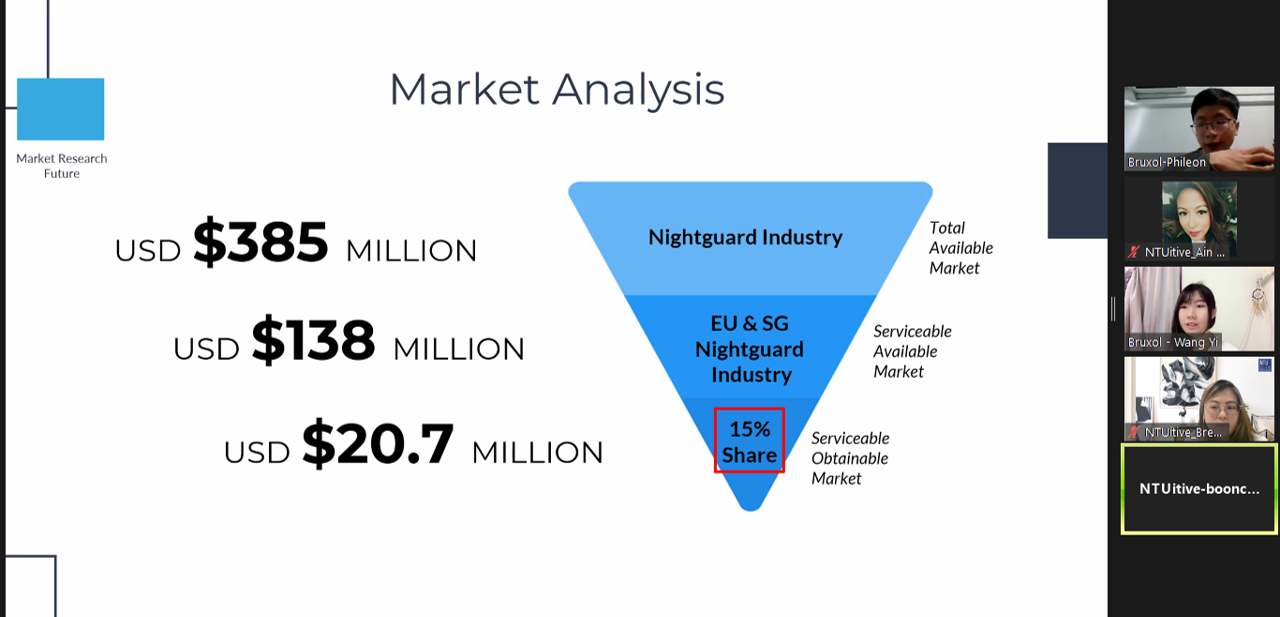 The Virtual Investment Game
Over a period of three hours, the aspiring entrepreneurs pitched their projects to potential investors . This was a challenge and a test of everything they have learned in the Innovation Challenge; they needed to pitch fast, learn fast, and to increase hit rate all while maintaining pitch cadence. On the other side, each investor was given a million virtual dollars to invest. By the end of the challenge, the teams that received the highest valuation and the highest portfolio growth won. All throughout, aspiring entrepreneurs and investors were able to network and potentially move on to form collaborations beyond the event.
One of the three teams that emerged at the top was Corridor Farmers – a distribution platform aimed at empowering micro farmers. "The Challenge has been exciting so far. NTUitive is the first to host this style of hackathon, as far as we know," said Xavier from the team. "It was an interesting sandbox – instead of pitching one or two times, we had to do it 12-14 times over three hours. It was good practice and intense for sure, due to the high stakes involved!"
The various teams used different strategies to prepare for the investment game. Some opted to focus completely on refining the details of their pitch, while others produced new slide decks and prototypes.
"I think that helped the judges capture the main points we were trying to bring across and align our perspectives," one of the participants said. "The Challenge really provides a conducive environment to develop a venture idea."
That angle proved to be important during the Game – Does it work? Have you proven it? If one invests, when can they get a prototype demonstrating its efficacy? These were areas that Yvonne Tan, Dyson-NTU Studio Founder and RDD Senior Engineering Manager from Dyson asked a few teams. These questions challenged them to tackle the questions their pitches that were not explicitly addressed. "Sometimes the best solutions are seemingly the most basic ones. Ultimately, it is about creating something that solves a problem," Yvonne remarked, summing up her experience as an investor during the game.
"You have to be less superfluous. Establish the nature of your solution at the start," said Kok Pooi-San, Asia Pacific Head of Innovation for Beer, Ready to Drink & Mainstream Spirits, Diageo.
Participants were also confronted with questions that cut straight to the fundamentals of their invention. Was the problem one that really needed solving through investment? How confident were they about the solution's cost-effectiveness? How much maintenance and training does their solution require, and is their solution really worth it?"
Another team that emerged a winner was HortiHome; their project is a low-cost, hassle-free smart planter that helps local gardeners optimise plant growth. Through meticulous planning, they were demonstrably most prepared for scrutiny by the judges . Beyond the basics, they went above and beyond – researching competing teams as well as the types of investors they would face.
"The most surprising thing about the game was how it was unlike any type of investment pitch we've had to do," they said. "We were forced to think on the spot and tweak our pitch to suit the different investors."
This was particularly difficult, they admitted, because the judges were revealed only moments before the game began. HortiHome split their team's responsibilities, allocating themselves between investor researchers ("technical pitches for technical people"), virtual chaperones for the investors, and pitch presenters. This tactic proved effective, with them achieving the highest valuation by the end of the challenge.
What's next – for and after the finals?
The final demo day is fast approaching; on 2 September, the three finalist teams will present their prototypes to a panel of judges comprised of Dyson and NTUitive entrepreneurship and industry veterans. The winning team will walk away with a grand prize of up to S$4,000 in cash.
Since the Investment Game, the three finalist teams had been each awarded up to S$10,000 of prototyping funds to develop their prototypes, and also completed the Lean Launchpad (LLP) programme with NTUitive – a 10-week programme designed as an evidence-based platform through a hands-on approach in customer discovery to validate market needs for the technologies.
Ahead of the final showdown, what do the teams think about their prospects? Some of them – perhaps as expected of entrepreneurs – are putting on a pragmatic lens.
"We're going to focus more on our vision and mission – 'A farm in every corner'," Roc (Koh Chit Song) from Corridor Farmers said. "After speaking with the mentors, judges, and instructors, we have been brought back to reality and are focused on the main objective – which is to get our product out there. The finals will be our way of doing that. Meanwhile, we're zooming in on who really are our customers, so we can get the initial numbers that are vital to get any start-up going. More than anything, we really want more chances to interact and network with Dyson!"
HortiHome also has their eyes on what lies past the finals. "I think we're relatively confident in terms of our product. We have gotten strong and good feedback in our market surveys," said Sherwin from the team. "We're confident in our ability to deliver it on a technical level as well, so we believe we stand a strong chance in the finals. But instead of focusing on just the pitch and research on the judges like before, we're going to focus a lot more on our product and make sure it's as ready to go to market as we need it to be. That's our plan moving forward."
We wish all finalist teams the best as they prepare to meet the final challenge with passion and determination. Stay tuned for the long-awaited results of the Dyson-NTU Innovation Challenge 2021!